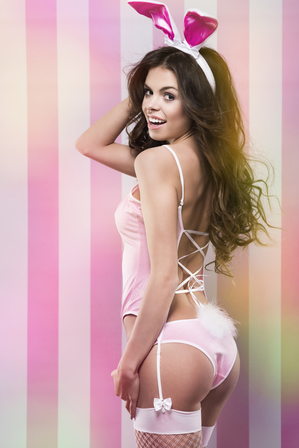 There's nothing worse than boredom in the bedroom! While it's normal for the spark to dull over time in a relationship, it's not supposed to fade altogether! While we don't call ourselves sex experts, it's fair to say we know an awfully large amount about ways to spice up a slow love life, and have the adult toys and lingerie which help to do so! We're going to share with you seven easy ways you bring the sizzle back into your bedroom, 50 shades of grey style!
5 Signs Your Relationship's Spark is Fading
You don't need to have lost the desire for sex to want to improve your relationship! However, how do you know when there's trouble on the horizon? Here are five signs which tell you it's time to spice things up!
You're bored. It's the same old, same old. Nothing is exciting and you'd rather roll over and sleep.
Your love life is no longer spontaneous. In fact, it's rarely planned either.
You're losing interest in spending time with your partner.
You avoid going to bed together at the same time.
Communication between you both has come to a standstill.
If these ring a bell, don't stress! We're sharing with you some easy, fun and truly sexy ways to bring the excitement back into your love life.
5 Ways to Spice Up Your Relationship
What we like about 50 Shades of Grey, is how it has brought bondage from a taboo topic, to one people will happily chat about. While full on S and M freaks out some, others are more than willing to introduce some basic bondage into their relationship. We're excited to be able to make experimenting with bondage easier, making sex toys and leather lingerie available for everyone. Let's take a look at seven great ways to bring that sizzle back into your bedroom:
Give bondage a go - chat with your partner about who's going to be the dominant and who will be submissive. Decide if spanking is on the agenda and if you are going to use a safe word. Dressing the part is crucial and our Leather & Lace Baby Doll fits the part nicely. Team it with a set of Leather Handcuffs and a Leather Whip to give you the full 50 Shades of Grey experience!
Go commando - wearing no underwear in unexpected locations is a real turn on! Make sure you tell your partner you're not wearing any!
Let your partner undress you - the very art of someone removing your clothing can be so arousing!
Get verbal - try out some dirty and steamy talk in the bedroom.
Experiment with different adult toys and lingerie - you could make decisions about what to try together, or visit our online sex shop individually to purchase toys to pleasure each other with. Such a sexy idea!!
Great sex is an artform and takes practise and dedication. Don't be afraid to keep experimenting with new ideas, methods and sex accessories until you find some you both love! As always, we're here to help. You can reach us via our Contact page and be assured we're incredibly discreet!
Posted: Wed 09 May 2018