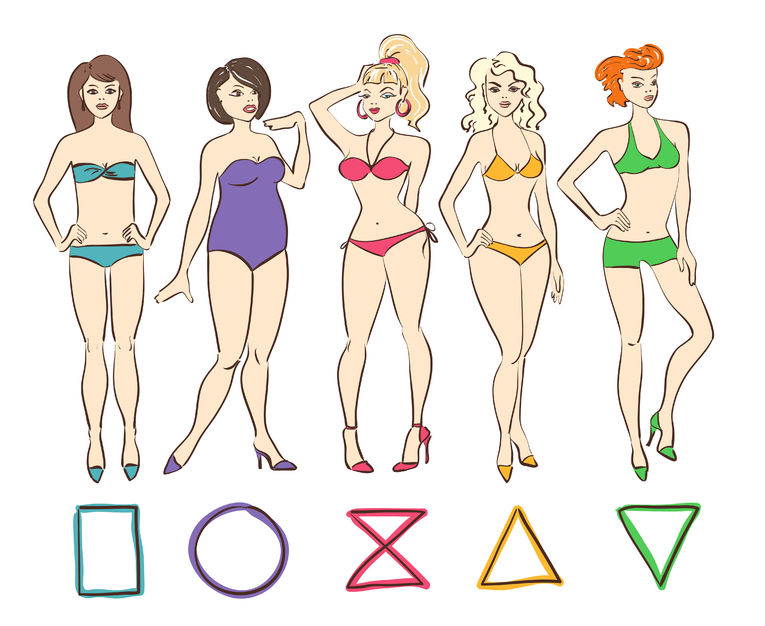 Lingerie can do amazing things to a woman's body, emphasising her curves and helping her to feel like a Goddess! But it's the choosing of lingerie which suits her body shape which causes plenty of confusion. If she's an apple, should she wear a corset? Do baby dolls look great on women with an hourglass shape? What can a small busted woman do to emphasise her boobs? As your specialist lingerie online store, we're here to help by sharing the most common body shapes women have, plus giving examples of lingerie which suit those body types.
What Body Shape Are You?
There are five common body shapes. They are:
Rectangle (ruler)
Round (apple)
Hourglass
Pear (triangle)
Inverted triangle
There's no hard and fast rule, but generally we'll fit best into one of these body types. It is important to know which body type you have, as this makes choosing your perfect lingerie set so much easier!
Lingerie for a Rectangle Body Shape
When your body shape is straight up and down, look for lingerie which plays on your height and long limbs. Garter belts, teddies, corsets and bustiers are ideal.
Lingerie for a Round Body Shape
As an apple, you'll have a gorgeous bust! Emphasise it with a halter top, or wear a baby doll to showcase your boobs and hide your midsection at the same time!
Lingerie for an Hourglass Body Shape
With an hourglass body type, it's all about emphasising your small waist. Try a corset or bustier to make your waist seem even smaller.
---
Lingerie for a Triangle Body Shape
A triangle or pear body shape is one where a woman is wider across her hips than she is at her shoulders. Low rise bikini style underwear with high cut sides helps to make legs longer and slimmer. Using a push up or padded bra helps to enhance your cleavage, as will a corset.
Lingerie for an Inverted Triangle Body Shape
With an inverted triangle/pear shape, your upper body is larger than your hips. Wearing a teddy will help to accentuate your v shape, while a chemise will tighten around your hips and show off your small bum!
For personalised help in choosing lingerie for your body shape, contact us to arrange a time to visit our Auckland lingerie showroom.
Posted: Fri 06 Jul 2018